Carriage Barn Antiques
Featured in Country Living Magazine,
THE CARRIAGE BARN ANTIQUES is the largest antique store
in Northeast Pennsylvania.
THE CARRIAGE BARN ANTIQUES has over 6,000 Square Feet
& 2 Floors of Restored Furniture and Accessories.
In every room on every floor,
you will find antique furniture that pleases the eye
and the senses.
Whether you are shopping for just the right touch
for your family room, dining room, or bedroom
or a unique piece that sets you apart,
you should be shopping at
THE CARRIAGE BARN ANTIQUES.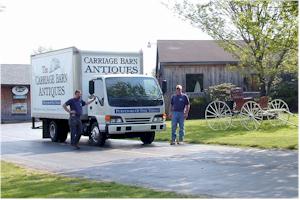 THE CARRIAGE BARN ANTIQUES DELIVERY SERVICE
covers the Northeastern United States and
we can arrange world-wide delivery.
Appraisals - NEAA Certified

Estate

Insurance

Personal

Come for a visit.
Take Back something worth remembering!
Contact Information
Telephone

(570)587-5405

FAX

(570)586-0712

Postal address

1550 Fairview Road, Clarks Summit, PA 18411

Business Hours

Open Monday through Friday 9 a.m. to 5 p.m.

Saturday & Sunday 10 a.m. to 5 p.m.

Electronic mail

Information: cbarnant@epix.net

The Carriage Barn Antiques Webmaster:
JMF computer services