Celebrate the magic of Houdini!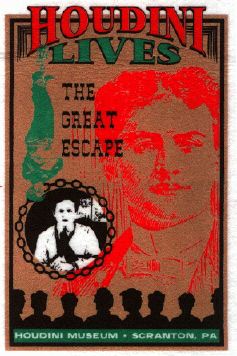 ...Houdini... The greatest magician of all time.
Magician, Escape Artist, Movie Star, and Esposer of gambling & psychic frauds and cheats!
Spend a magicial visit with Houdini!
---Houdini Museum & Tour,

GREAT NEW ITEM! CATALOGS OF MAGIC. 170 PageS.
ONLY $6.00 POSTAGE PAID. ORDER NOW WHILE OUR SUPPLY LASTS!

Go to


Order form for Posters, T-Shirts, Souvenirs, Books, Magic, etc.

Sizes: Childs, Small, Medium, Large, Xtra Large.
Make checks out to Magic USA.
To order send $20.00 to
Houdini Museum
1433 N. Main Ave.
Scranton, PA 18508
For delivery in USA.
For out of country orders add appropriate postage.


© 1989-2003 by The Houdini Museum. Except for reviews, no part may be reproduced in any form, without written permission. Graphics have been retouched, computer enhanced and resized by the authors.
Houdini Museum



End of Document
..