The Houdini Museum in the Scranton
Poconos - Pocono Mountains - Scranton - NE PA:
Wilkes Barre & Pennsylvania Poconos - Pocono Mountains region.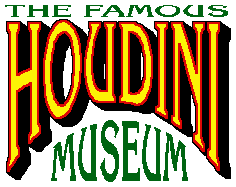 Sponsor
Search for magic items at Magic USA Auctions.com ! Use one word, or two for exact phrase.
1433 N. Main, Scranton, PA 18508. Tel. (570) 342-5555
DO NOT USE MAPQUEST FOR DRIVING DIRECTIONS
Mapblast.com seems to get it right, however.
Take I-81 to Exit 190 the Main Ave Exit (old exit 56)
go LEFT onto Main exactly 2 miles to 1433 N. Main Ave., Scranton, PA
Free Parking. Enter front or back.
DIRECTIONS TO 81 -
From the East (NY, NJ, Stroudsburg, etc. 80W to 380N to 81N.
From the North East. 84 W to 380 N to 81 N. From the West (Pittsburgh. 80W to 81N.
From the South (Philia, etc) Tpk Extension 476N to Pittston exit to 81 N.
From Allentown, etc. 33N to 80W to 380N to 81N Open Memorial Day Weekend, and
all weekends in June (except for June 2), 1-4 PM.

Every day July and August through Labor Day Weekend,
7 days a week, 1-6 PM.
May, June, July, August, September mornings available for group reservations.
News flash!!! Missing Houdini Bust stolen from the grave years ago found in man's apartment.
Click here for text of story from Long Island's Newday.
A plaque was given in the summer of 2002to the directors of the Houdini Museum,
Dorothy Dietrich and John Bravo (Dick Brooks) for their efforts to promote a Houdini stamp






Second Official Online Live Houdini Seance to appear here on Oct. 31!
(PREVIOUS VISITORS - Jump right to Recent News & Contents list)
---


BOOKMARK THIS SITE. THERE ARE ALWAYS NEW ITEMS BEING ADDED!
Houdini! His magic and escapes. The only museum in the world totally devoted to Houdini. Tours change and in the summer includes a magic show.
Halloween shows in October (no tours) and our yearly Official Houdini Halloween seance on the Web.
We cover Houdini's career and facts about Houdini not found elsewhere and is added to on a regular basis. The Houdini Museum has national and international significance, especially since the tragic fire of the wonderful exhibit in Niagara Falls in May of 1995.
The Houdini Museum has been open for 10 years, prior to that a part of the exhibit was on display for 13 years at the famous Magic Towne House in New York City where we also did the only Official Houdini Halloween seances in NYC during that period.
The Houdini Museum has been called one of the most unique museums and attractions in the world.
HOUDINI Quick Menu | For Previous Visitors
---

Recent News!
HOUDINI MUSEUM ON NATIONAL TV!
MONTEL WILLIAMS SHOW AND THE DISCOVERY CHANNEL!

Dorothy Dietrich was on the Montel Williams Show as well as the Discovery Channel. Montel, who called her "The World's Leading Female Magician and Escape Artist," showed clips of her doing the Jinxed Bullet Catch at Resorts International in Atlantic City and had her escape from a straight-Jacket. We supplied them with the footage from Atlantic city. Dorothy mentioned her appearances at the HOUDINI MUSEUM in the summer. The show sought out the world's greatest women in various fields that do spectacular things. Dorothy is the first woman in history to accomplish the jinxed catching of a bullet in her mouth. It is the one stunt Houdini refused to do! She is also the first women to escape from a Straight Jacket with a burning rope, a stunt Houdini never did. Discovery Channel has done several different segments at the Houdini Museum that appear on a regular basis.

Learn More about Dorothy Dietrich
---
Houdini Museum helps launch the new book, "Houdini!!!" Pictured are Professor Putter, Author Kenneth Silverman, Dorothy Dietrich and Bravo the Great! (aka Dick Brooks) Dietrich and Bravo were booked by the publishers, (Harper) to perform on the big stage for the New York City Book Fair and took first prize of the entire Fair. The fair attracted over 200,000 people.

Blowup of this picture




About the book, Houdini!!!
---
Learn about some of the Magicians who make this possible.
Go to

Home Page of Dorothy Dietrich, leading female magician and a director of the Houdini Museum. Covers bullet catch, straight jacket escapes, animals, TV appearances,
Go to

Home Page of John Bravo (Bravo The Great aka Dick Brooks), well known magician and a director of the Houdini Museum
Back to top of this page.
(Jump to Recent News & Contents list)

---
New Houdini
T-Shirt Design!!!




This original design
contains 3 of Houdini's
actual graphics used in
his own publicity.

High quality Made in USA
shirt made of 100% cotton
Special Internet price


$17.50


Guaranteed to become
a collectors item.

To purchase a
T-Shirt press here
Don't miss our SPOOK-TACULAR HALLOWEEN SHOWS.
Also Don't miss our next annual Houdini Seance on the Internet this Halloween.
---
Back to top of this page.
(Jump to Recent News & Contents list)
Go to


FREE LINK TO US. SIMPLE INSTRUCTIONS

Go to


Pocono Fun Guide
Go to

One Page description of major attractions in the Pocono-Poconos-Scranton area.
Go to

Add a Free link to the Fun Guide on your site.
Go to

Pocono Directory
Go to

Scranton Directory
Go to

Pocono free discount coupon Page
Go to

Poconos Museums
Go to

Go to over 200 Scranton & Pocono Hotels & Restaurants listed by area and town.
Go to

Comprehensive detailed list of the BEST POCONO LODGING by area.
Go to

Comprehensive list of places to EAT by area.
Go to

New service!!! We can help you make your hotel reservations and help you make your choices. Fill out the form with phone number and dates. No Obligation. CLICK HERE NOW!FREE- Reserve with us and we send you special coupon books worth thousands of dollars in discounts.
---
Back to top of this page.
(Jump to Recent News & Contents list)

to get on our Houdini email list press here and type YES IN THE SUBJECT HEADING.
---

END OF DOCUMENT
If there is a problem with this page please contact webmaster and include the URL of the page and the problem. Thank you.
Magic USA Banner Exchange
Things to do

Shows for School Assemblies |School Show | Learn about magic's most dangerous stunt | Things for bus groups to do. | Book a room in any city in the world | Various informative links | Take a cruise | Guide to cruises | One of the world's leading female magicians | Poconos online magazine of things to do | Where to go on a Honeymoon | Discounts for Honeymoons, Caesars, etc | Houdini Information World's only Museum entirely devoted to Houdini | Site dedicated to the Houdini Seance | List of magic events | New site for magic auctions | Calendar of magic happenings | Dedicated to NY's Magic Towne House. | Travel the USA | Auction site dedicated to magic | mystery bus ride | mystery bus tour | mystery bus trip | Visit with a leading mystery entertainer | Spend a Mystery Night out | petfoodrecipes | Boating in the Poconos | Pocono Mountains Directory | Pocono Mountain Index | Coupons for Pocono Mountains attractions | Discounts in the Poconos | Poconos Leading Guide | Getaway to the Pocono Mountains | Getaways in the Pocono Mountain Region | Discount Honeymoons in the Pocono Mountains | Honeymoon int the Poconos Mountain Region | Comprhensive directory of Pocono Mountain NE PA Hotels | Restaurants in the Mountains of the Poconos | Pocono Honeymoon Information | The first auction site in Canada | http://Everything important to do in Scranton PA | Find and Reserve throughout the world | Comprehensive listing of magic events throughout the world | Haunted events throughout the world that run most of the year. |

Web Sites of Interest

School Assembly Programs | School Shows | bulletcatch, magic's most dangerous | busgroups | CityDirectories | crosslinkz | Cruise Fun Guide | Cruise Line Guide | Dorothy Dietrich, Leading female magician | Guest Magazine | Honeymoon Directory | Honeymoon Discounts | Houdini Museum Archives HoudiniShowspot | Houdini Seance | Magic Calendar | Magicians Auction | Magicians Calendar | NY's Magic Towne House | MagicUSA Travel reservations | Magic USA auctions | Mystery Bus Ride | Mystery Bus Tour | Mystery Bus Trip | Mystery Entertainer | Mystery Nights | Original Houdini Seance in NY | Pet Food Recipes | Pocono Boating | Pocono.net | Pocono.org | Pocono Coupons | Pocono Discounts | Pocono Fun Guide | Pocono Getaway | Pocono Getaways | Pocono Honeymoon | Pocono Honeymoons | Pocono Hotels | Pocono Restaurants | Pocono Rooms | Poconos Honeymoon | PolarAuctions | Psychic Evening | Psychic Night | Psychic Theater | Psychic Theatre | Anime site | Scranton, PA | Supernormalist | Where To Find Travel | Comprehensive listing of magic events throughout the world | Haunted events throughout the world that run most of the year. |