Sponsor

Search for magic items at Magic USA Auctions.com ! Use one word, or two for exact phrase.
RAILROAD STATIONS IN SCRANTON IN THE POCONO-POCONOS NORTHEAST PA REGION
---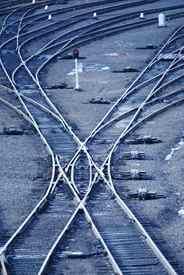 Scranton helps fuel the growth of America.
As an example of Scranton's industrial output, in the year 1900 some 300,000 tons of steel was forged here. It is estimated that one out of six of the rails that cross America were made in Scranton during this period.

This in of itself is fitting reason for Steamtown to be situated here.

The foundries ran 24 hours a day and kept the nighttime skies lit bright as day as they poured out their molten product for the train industry.



---
(RR)Lackawana Railroad Station In Scranton(now a top rated hotel )
A testament to that is the Lackawanna RR Railroad Train Station, a six story railroad
train station so enormous that it has been turned into a major hotel.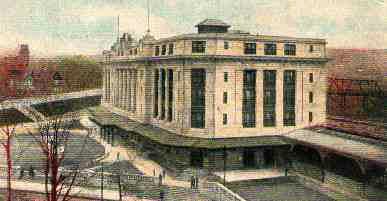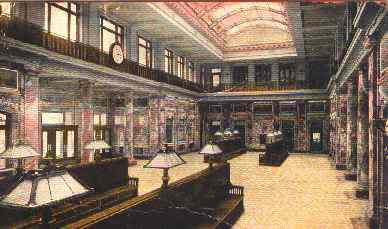 The grandeur of such an railroad station is only seen in New York
or Chicago with such railroad stations as Grand Central Station.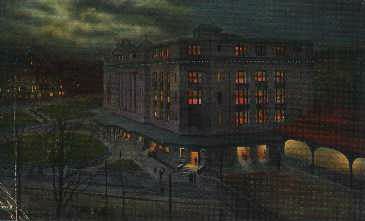 ---
The DL&H Railroad Building in Scranton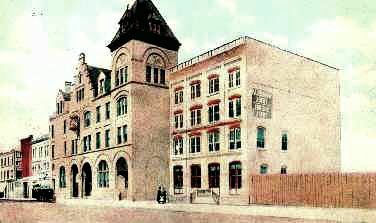 Five railroad companies trains brought out our various
valuable products as fast as they could be readied for market.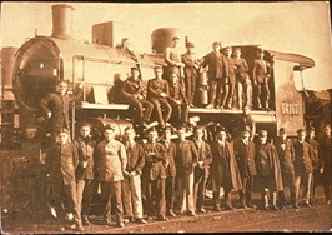 As with all things environmental, the area ran out of iron ore and hence the foundries were dismantled and reconstructed in the Buffalo area where the raw materials to make iron and steel were easily available via the Great Lakes. This signaled the eventual end of the growth of Scranton. Scranton then had to rely only on the coal industry which lasted mostly through the end of World War One, when other cheaper, cleaner and easier to transport forms of energy began to come to the fore, namely gas, oil, and electric.
However, in those early important decades of Scranton's history, Scranton was the nation's second largest iron and steel producing city. Huge locomotives to pull the trains were built here as well. In this era of rapid growth Scranton also had the first regularly scheduled trolly service in America, and were one of the first cities to be electrified, Scranton's being called "The Electric City"
Current exterior photo of Lackawanna Station Hotel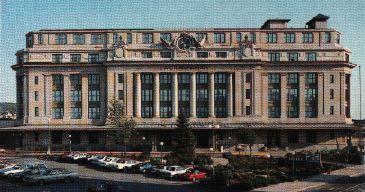 Current interior photo of Lackawanna Station Hotel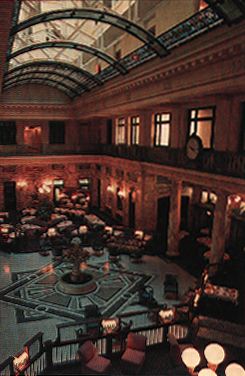 Tourist Information...
Go to

Scranton's Houdini Museum
Go to

Scranton - Historic Jewel of the Poconos region.
Go to

Pocono - Scranton Fun Guide.
Go to

Early theater history in Scranton.
Go to

Tour 1 of Scranton. A tour of Scranton's skyline and historic buildings.
Go to

Tour 2 of Scranton. A tour of Scranton's government buildings.
Go to

Tour 3 of Scranton. A tour of Luna Amusement Park .
Go to

Tour 4 of Scranton. A tour of the old coal mining area.
Go to

Pocono Directory
Go to

Discount Coupons for Pocono area.

Go to

List of over 200 Poconos / Scranton Area Hotels, Attractions, Stores and Restaurants listed by area and town.
Go to

(links)local hotels, local museums, more Houdini links,

CityLink USA, etc. All with Web Site links


---
---
© 1989-2003 by MagicUSA. Except for reviews, no part of any of this document may be reproduced in any form, without written permission by the authors. The graphics have been retouched, computer enhanced and resized by the authors.


MagicUSA


Last updated: MARCH, 2003