ATTRACTIONS Quick Menu | For Previous Visitors
BASKETBALL AT LACKAWANNA COUNTY STADIUM, IN the SCRANTON, Poconos Region of PA
Lackawanna County Stadium, Scranton Tournament information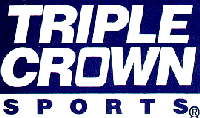 A yearly event at Lackawanna County Stadium In Scranton
This web site sponsored by Scranton's Famous Houdini Museum.
The Triple Crown National Championships Series is a weekend of 3-on-3 hoops hysteria. The "playground" style tournament will be played at Lackawanna County Stadium in Scranton, PA. Amateur basketball tournament for all sizes and abilities, ages 8 to 99.
The Triple Crown tournament is for anyone who loves the game. The weekend format is designed by players for players.
Games are played to 20 points or for 30 minutes. Scoring is by ones (alternate possession) with two points awarded for shots beyond 19 ft. Top teams in each division receive exciting awards and qualify for September's National Finals to be played at the foot of the Rocky Mountains in Denver, Colorado. Mile High Hoops!
Thanks to all of our participants, Triple Crown Sports will help raise money for Northeast Baseball Inc's Stadium Improvement Fund.
Draft your players, sharpen your skills, lace up your shoes and enter your team because the Triple Crown National 3-on-3 Basketball is coming to Scranton!!!
Basketball information

Each team consists of three or four players; three starters and one substitute.
Teams are grouped in divisions with other teams of similar age, height and playing ability.
Games are played with official Triple Crown rules.
For information and registration form call Lackawanna County Stadium: 570 969-2255

Tourist Information...






Go to

Early theater history in Scranton.
Go to

Tour 1 of Scranton. A tour of Scranton's skyline and historic buildings.
Go to

Tour 2 of Scranton. A tour of Scranton's government buildings.
Go to

Tour 3 of Scranton. A tour of Luna Amusement Park .
Go to

Tour 4 of Scranton. A tour of the old coal mining area.

Go to

LIST OF OVER 200 HOTELS AND RESTAURANTS LISTED BY AREA AND TOWN
.
© 1993 by MagicUSA. No part of any of this document may be reproduced in any form, without written permission. The graphics have been retouched, computer enhanced and resized by the authors.
---
---