Sponsor

Search for magic items at Magic USA Auctions.com ! Use one word, or two for exact phrase.

POCONOS:
Article Page
The Official Houdini Seance


Articles like these have appeared in papers over the last twenty years since master magician John Bravo presided over the Official Houdini Seances in New York City with such magic greats as Walter B. Gibson and Milbourne Christopher.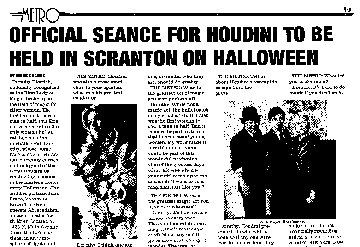 The Houdini Museum has been In Scranton for 10 years, and open to the general public for five years in the Scranton/Pocono area. Prior to that a part of the exhibit was on display for 13 years at the famous Magic Towne House in New York City. The Magic Towne House was the location of the Houdini Seances held in New York City, where Houdini lived most of his life. Many famous magicians attended including Milbourne Christopher and Walter B. Gibson. According to Walter Houdini's wife asked him to carry on the seances and Walter, asked magician Dorothy Dietrich to carry them on as a tribute to Houdini on several occasions before he passed away.

Go to Dunninger fake seance message claim


Go to

October Halloween Shows at the Houdini Museum


Houdini Museum Contents listClicking on this list will give you more information, and you can always return.

Houdini biography.


Not well known facts about Houdini.
Houdini's local appearances
Some Houdini challenges in the area.
Houdini's brother Hardeen and other magic history
Houdini's exposure of psychics, mediums and other frauds.
Local writer writes of seeing Houdini many times.
Ads for Houdini's movies in Scranton.
Some Houdini portraits, drawings, etc.
Early theater history in Scranton.




Houdini Museum Information...

About the Houdini museum and tour.
To order a T-Shirt.
Available souvenirs & Houidni Museum memberships.
Houdini Museum Information for GROUPS & FIELD TRIPS AND MAGIC SHOWS.
Picture gallery / celebrities along with the famous magicians who direct the Houdini Museum
Home Page of Dorothy Dietrich, leading female magician and a director of the Houdini Museum
Houdini Museum hours of Operation.....
Houdini Museum directions & Map.
Houdini Museum Memberships & Donations & Volunteers.
A GREAT NEW BOOK ABOUT HOUDINI!!! Greatest book yet on Houdini. Called "Houdini!!!" and is written by a Pulitzer Prize winning author who knows magic and magicians as well, Kenneth Silverman. A giant work with 150 pictures as well. It will retail for $35 Send $32.50 plus $5 postage and handling in US or appropriate postage for non US destinations. Don't miss this. Send to Houdini Museum, 1433 N. Main Ave., Scranton PA 18508


Tourist Information...
Go to

Pocono - Scranton Fun Guide.
Go to

SCRANTON HISTORY. Historic Jewel of the Pocono Region.
Go to

Tour 1 of Scranton. City skyline
Go to

Tour 2 of Scranton. Government buildings
Go to

Tour 3 of Scranton. A tour of Luna Amusement Park .
Go to

Tour 4 of Scranton. A tour of the old coal mining area.
Go to

Early theater history in Scranton.

Go to

List of over 200 Pocono Scranton area hotels and restaurants listed by area and town.
Go to

Information about the Lackawanna County Stadium 3 ON 3 Basketball Shootout
Go to

Information about the Scranton Steamtown Marathon during fall foliage in October.
Go to

(links)local hotels, local museums, more Houdini links, CityLink USA, etc. All with Web Site links
---
---


© 1989-2003 by The Houdini Museum. No part of any of this document may be reproduced in any form, without written permission. The graphics have been retouched, computer enhanced and resized by the authors.