Directions to the Houdini Museum
In the Scranton Pocono region.
From anywhere in America. Head to Interstate 81 toward Scranton. Get off at Exit 190 (Main Avenue - old exit 56) Make a left and go 2 miles. The building is on the right hand side. See the large #1 on the map below for our exact location. There is a parking lot in the rear back alley of the restored turn of the century house.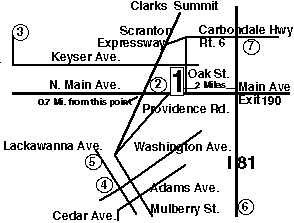 EXIT 56 IS NOW EXIT 190

Map of the area.
Houdini Museum Information...
Go to

Houdini Museum Memberships.
Go to

About the Houdini museum and tour.
Go to

Museum Information for GROUPS, FIELD TRIPS AND SHOWS.
Go to

Houdini Museum hours of Operation.....
Go to

Bus Tours
Learn about the Magicians who make this possible.
Go to

Home Page of Dorothy Dietrich, leading female magician and a director of the Houdini Museum. Covers bullet catch, straight jacket escapes, animals, TV appearances,
Go to

Home Page of John Bravo (Bravo The Great aka Dick Brooks), well known magician and a director of the Houdini Museum
Go to


FREE LINK TO US. SIMPLE INSTRUCTIONS


Go to

Make your travel reservations just click here.




© 1989-2009 by magicusa. Except for reviews, no part of any of this document may be reproduced in any form, without written permission by the authors. The graphics have been retouched, computer enhanced and resized by the authors.