POCONOS:
The Halloween Harry Houdini Seance on the Internet Oct 30-Oct 31.
The Halloween Harry Houdini Seance

We are asking everyone on the web to attempt to contact Harry Houdini sometime during Halloween for the 24 hours of October 31st and email us with any results and lack of results. No kooks please, this is a serious test and tribute.





Chosen as one of the "7 Wonders of the Web"

The Houdini Museum has been In Scranton for 15 years, and open to the general public for 14 years in the Scranton/Pocono area. Prior to that a part of the exhibit was on display for 13 years at the famous Magic Towne House in New York City. The Magic Towne House was the location of the Halloween Houdini Seances held in New York City, where Harry Houdini lived most of his life. Many famous magicians attended our Harry Houdini seances including Milbourne Christopher and Walter B. Gibson. According to Walter Houdini's wife asked him to carry on the Halloween seances and Walter, asked magician Dorothy Dietrich to carry the seances on as a tribute to Harry Houdini on several occasions before he passed away.

The photo shows some of Magic's most famous figures at a New York "Halloween Harry Houdini Seance." Although these have been called "seances" by many, it was really meant as a scientific test between Houdini, his wife and friends.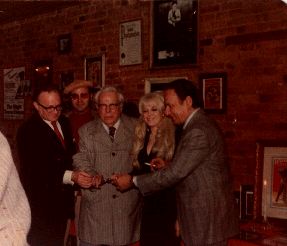 Seen in this photo are
1) Magic author and editor Byron Wells.
2) Long lost friend Solomon Cohen (where are you?)
3) Famous author Walter B. Gibson, author of "The Shadow," Houdini biographer, ghost writer, confidant of Houdini and his wife Bess. Before he died he asked Dorothy Dietrich to carry on the tradition of the yearly tributes to Houdini called by many "seances."
4) America's leading female magician and an expert on Houdini, Dorothy Dietrich.
5) Milbourne Christopher, magic historian, and biographer of Houdini who attended most of the New York "Houdini Seances" at The Magic Towne House before he passed away.
Famous magician and writer Milbourne Christopher
at another of our "Halloween Harry Houdini Seances" shortly before he passed away.


Please note the NYC Mayor's proclamation above Walter and Dorothy's head.

Harry Houdini never said he was coming back, or that he would open handcuffs, etc. He was the exposer of the very people who claimed they could get messages from your dead relatives, make their ghosts appear, etc. He said such things were in his experience not possible, but being the greatest escape artist/magician that ever lived he, Houdini, would try to escape from the beyond. After ten years of doing the Harry Houdini Seance with no results his wife Bess sent out a letter to participants saying "since the failure of the ten year TEST, it is my opinion that all concerned have struck a mighty world wide blow at superstition."

Go to Articles about past "Harry Houdini Seances"

For many years Dunninger claimed he had a code with Houdini. Research proves this to be a falsehood

Go to Dunninger seance message claim(?)