RECENT ACQUISITIONS Page

Scranton's Houdini Museum RECENT ACQUISITIONS Page in the Scranton- Wilkes Barre / Steamtown National Park & Poconos Pennsylvania tourist area.
We thank all who help make our mission possible. Those who donate will be put on this Page and get a beautiful certificate as well. It also takes quite a bit of money to operate this web site and the museum, so we also need your financial support. Thank you again.
Donors and members get special privileges, access to secret unregistered web Pages we will be putting up, a beautiful certificate with Houdini's picture on it, and a new golden lapel pin that we are having made up, discounts, etc. Other specials as well. Thank you, you make the museum and web site available to the world. Please join as a donor or member now!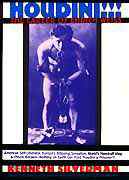 ...
6 foot poster of Pulitzer Prize winning author Ken Silverman's biography of Houdini! This is a link to more information about this fine book.
From publisher Harper Collins, NYC, USA.
2 copies of Red Magic, newspaper series Houdini and others wrote as a Sunday supplement.
From WES the Magician, PA, USA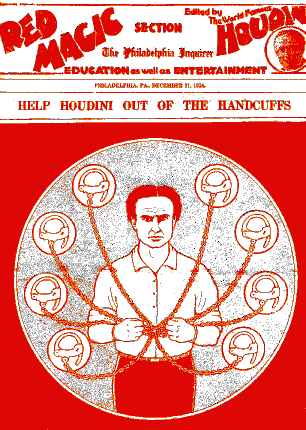 Wonderful series of 14 photos of Houdini's gravesite, with pictures of each individual stone and plot for each of the key members of the family. This is a link to more of this set of pictures.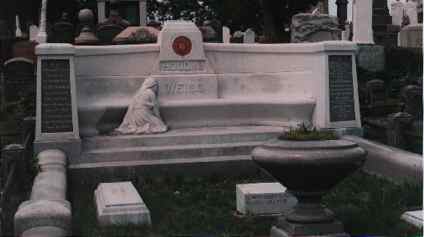 From by Mr. & Mrs. Edwin Connell, FL, USA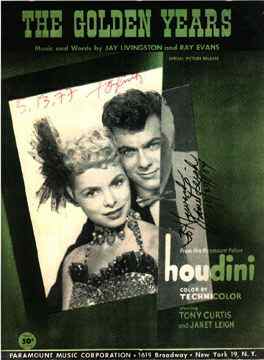 Anon-Color copy of sheet music autographed by Janet Leigh % Tony Curtis.
...
Exclusive. The room in which Houdini Died! ONLY PHOTOS KNOWN TO EXIST.
From Bob Franke,Jr, Texas, USA.

Go to Houdini Museum Main Page.
Go to Houdini biography.
Go to Available souvenirs & Houdini Museum memberships.
Go to To order a T-Shirt.
Go to Houdini's beautiful posters, copies of which are available from the museum.
Go to Some pictures of Houdini riding trains.
Go to Not well known facts about Houdini.
Go to Houdini's local appearances
Go to Some Houdini challenges in the area.
Go to Houdini's brother Hardeen and other magic history
Go to Houdini's exposure of psychics, mediums and other frauds.
Go to Local writer writes of seeing Houdini many times.
Go to Ads for Houdini's movies in Scranton.
Go to Some Houdini portraits, drawings, etc.
Go to Articles about our past Houdini Halloween "seances"
Go to Dunninger fake seance message claim. Dunninger claimed he had a code with Houdini and was a good friend. Research proves this to be a falsehood


Go to Early theater history in Scranton.
Go to About the Houdini museum and tour.
Go to Houdini Museum Information for GROUPS & FIELD TRIPS AND MAGIC SHOWS.
Go to Home Page of Dorothy Dietrich, leading female magician and a director of the Houdini Museum
Go to Home Page of John Bravo (Bravo The Great aka Dick Brooks), well known magician and a director of the Houdini Museum
Go to Houdini Museum hours of Operation.....
Go to Houdini Museum directions & Map.
Go to Houdini Museum Memberships & Donations & Volunteers.
Go to "Houdini Halloween Seance" on the Web!
Go to FREE LINK TO US. SIMPLE INSTRUCTIONS
Go to Daily October Halloween Shows at the Houdini Museum


Tourist Information...
Go to

Pocono - Scranton Fun Guide.
Go to

Pocono Directory
Go to

SCRANTON HISTORY. Historic Jewel of the Pocono Region.
Go to

Scranton's Grand Railroad Stations built because of Scranton's Iron, Steel and coal.
Go to

Tour 1 of Scranton. City skyline
Go to

Tour 2 of Scranton. Government buildings
Go to

Tour 3 of Scranton. A tour of Luna Amusement Park .
Go to

Tour 4 of Scranton. A tour of the old coal mining area.
Go to

Early theater history in Scranton.
Go to

Old time posters for Lackawanna Railroad promoting clean rides with Phoebe Snow.
Go to

Laws in PA. protecting consumers from fraud by agents and bookers.
Go to

List of over 200 Pocono Scranton area hotels and restaurants listed by area and town.
Go to

Information about the Lackawanna County Stadium 3 ON 3 Basketball Shootout.
Go to

Information about the Scranton Steamtown Marathon during fall foliage in October.
Go to

(links)local hotels, museums, more Houdini links, CityLink USA, etc.
© 1989-2003 by The Houdini Museum. No part of any of this document may be reproduced in any form, without written permission. The graphics have been retouched, computer enhanced and resized by the authors.




train, trains, rail road, railroads, train, trains, rail road, railroads, train, trains, rail road, railroads, train, trains, rail road, railroads, train, trains, rail road, railroads, train, trains, rail road, railroads, train, trains, rail road, railroads, Houdini, museum, attraction, show, magic, Scranton, Pocono, Wilkes Barre, Steamtown, Pocono Mountains,children's museum, halloween, seance, multiple inteligence,theater, vaudeville, pa, Pennsylvania, silverman, tour, bus, school, children, trip, trick, magician, travel, trick, escape, illusion,Houdini, museum, attraction, show, magic, Scranton, Pocono, Wilkes Barre, Steamtown, Pocono Mountains,children's museum, halloween, seance, multiple inteligence,theater, vaudeville, pa, Pennsylvania, silverman, tour, bus, school, children, trip, trick, magician, travel, trick, escape, illusion,Houdini, museum, attraction, show, magic, Scranton, Pocono, Wilkes Barre, Steamtown, Pocono Mountains,children's museum, halloween, seance, multiple inteligence,theater, vaudeville, pa, Pennsylvania, silverman, tour, bus, school, children, trip, trick, magician, travel, trick, escape, illusion,