KEYWORDS
Our eternal thanks to Edward and Adelaide Connell of Florida for these and other wonderful pictures of the gravesite.
There is a never ending interest in Houdini's Gravesite.
He is buried in New York City which was his home for most of his life. It is across the river in Queens, near the Brooklyn border. It is very private and none are allowed unless they are related. Hence, we do not put the address. There has been vandalism, publicity stunts by magicians and others, etc.


His entire family is buried there, mother, father, sister and brothers, etc.





Here you see his chosen name Houdini and his real name, Weiss. He left a large sum to the Society of American Magicians, the equivalent of about $40,000.00 in todays currency. The bronze colored round crest in the center top of the monument is in fact the crest of the Society of American Magicians. Make no mistake about it Houdini loved magic and magicians.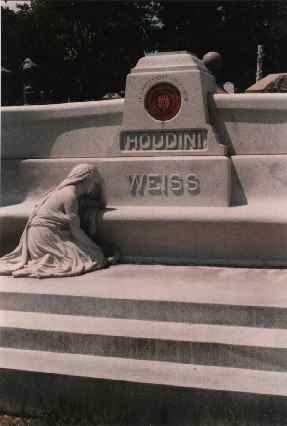 He left his gigantic collection of books on theater and magic to the Library of Congress for future generations to study, rather than sell it for personal gain. It is worth millions.

His wife is not buried there. There is a spot for her as you can see her name on Houdini grave stone below, but her family did not want her buried there after she died for religious reasons.


She did want to be buried with Houdini.
We have a copy of his will in our collection.
Go to


FREE LINK TO US. SIMPLE INSTRUCTIONS


Go to