Quick Menu | For Previous Visitors
KEYWORDS | Full description will follow down the Page!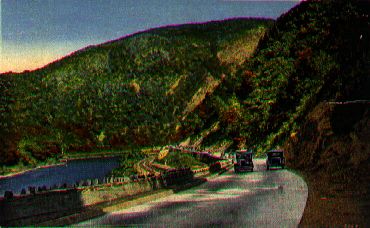 Delaware Water Gap in the Pocono/Poconos Mountain Region

10% Discount Coupon


10% Discount coupon


The "Mini Sink," as this area was named by the native Lenapes, was first inhabited by the Paleo Indians as early as 10,000 to 12,000 BC.The Dutch mined copper in this area after an expedition in 1620 revealed the presence of mineral deposits.

The mining company built a road connecting this area to Esopus (Kingston, New York). It was along this one hundred mile "Coppermine Road" that the first settlers reached the Mini Sink. The first settler on the west bank of the Delaware River in the Mini Sink was Nicolas Depui who moved his family from the Hudson Valley in 1727. In 1793 Antoine Dutot, a French plantation owner in Santa Domingo,purchased a large tract of land and laid out a village.

The first Inn was built in 1799, by Benjamin Bonham, along the path of an anticipated road to be built in 1800 by Abram B. Giles.
Tourist Information...

Go to


Pocono - Scranton Fun Guide.
Go to

Pocono Directory
Go to

Scranton Directory
Go to

Pocono free discount coupon Page
Go to


HOUDINI MUSEUM AREA
Go to

Scranton's Grand Railroad Stations built because of Scranton's Iron, Steel and coal.
Go to

Old time posters for Lackawanna Railroad promoting clean (?) rides with Phoebe Snow.
Go to

SCRANTON HISTORY. Historic Jewel of the Pocono Region.
Go to

Tour 1 of Scranton. City skyline
Go to

Tour 2 of Scranton. Government buildings
Go to

Tour 3 of Scranton. A tour of Luna Amusement Park .
Go to

Tour 4 of Scranton. A tour of the old coal mining area.
Go to

The Coal Miners and their families.
Go to

Early theater history in Scranton.

Go to

LIST OF OVER 200 POCONO - SCRANTON HOTELS AND RESTAURANTS LISTED BY AREA.


Go to

Stroudsburg History.
Go to

Jim Thorpe History.
Go to

Nicholson Bridge. World's Largest Concrete Bridge.
Go to

East Stroudsburg History.
Go to

Delaware Water Gap History.

Go to (links)local hotels, local museums, more Houdini links, CityLink USA, etc. All with Web Site links


© 1989-2003 by The Houdini Museum. No part of any of this document may be reproduced in any form, without written permission. The graphics have been retouched, computer enhanced and resized by the authors.

---
---



END OF DOCUMENT