Stroudsburg In the
Poconos: Pocono Mountain Region.

"The Gateway to the Poconos."

Quick Menu | For Previous Visitors


KEYWORDS | Full description will follow down the Page!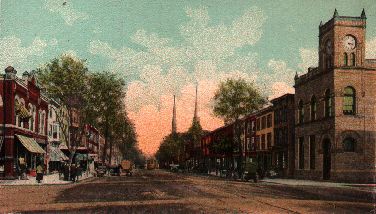 Main Street in Stroudsburg around the turn of the century.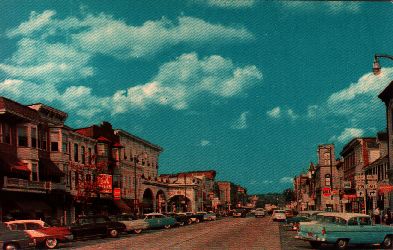 Main Street in the 1950's. It looks very much the same today.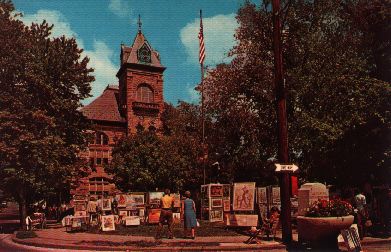 Monroe County Courthouse. There are several outdoor art shows held
each year throughout the area. The Courthouse was constructed in 1890.

HISTORY OF STROUDSBURG When white settlers first came to the Pocono Mountains of Northeastern Pennsylvania the Indi- ans who lived there bestowed a blessing upon them. "May your moccasins be dry, your path be free from logs and briars and may the sun shine on your lodges." Unfortunately disputes over the land soon blossomed into war and Indian attacks on settlers were common.

Peter LeBar was the first white settler to build a home in the area that was to become Stroudsburg. The log house was built in 1730 and stood where 9th and Main Streets now meet. The home is no longer standing. Fort Hamilton was built in 1756 and in 1760 Jacob Stroub settled here and built a large stone house. He later built a stockade around it and named it Fort Penn.

In 1778, this fort became a place of refuge to hundreds of people fleeing the Wyoming Massacre. This terrible massacre, perpetrated by 400 Tory Rangers and 700 Indians, left 400 dead and many others were taken prisoner. Acts of murder and torture too horrible to describe were committed against the settlers.

It was here at Fort Penn that Daniel Stroud, founder of Stroudsburg, was born on May 22,1772. When he was only nine years old he was sent to Nazareth where he received a classical education. He then studied with a law firm in Philadelphia and was admitted to the bar at 21.

Elizabeth Shoemaker became his bride when he was 20 years old and several years later they moved back to this area at the request of his father. In 1795, Jacob Stroud built a large stone house on the corner of 9th and Main Streets for his son John; however, John preferred more solitude and soon moved away from the small settlement. Daniel and his wife moved into the home which still stands today and houses the Monroe County Historical Society.

In 1779, Jacob Stroud sold lots and started a development which later became Stroudsburg. When he died in 1806, Daniel inherited the land and in 1810 he laid out the borough of Stroudsburg. In 1815 a form of government was chartered and in 1816 a committee was formed to provide a school. The first newspaper, The Stroudsburg Gazette, started publishing in 1832.

Stroudsburg was named the county seat in 1836 and the first session of court was held the same year. The borough was incorporated in 1837 and the Stroudsburg bank opened in 1857.
Tourist Information...

Go to


Pocono - Scranton Fun Guide.
Go to

Pocono Directory
Go to

Scranton Directory
Go to

Pocono free discount coupon Page
Go to


HOUDINI MUSEUM AREA
Go to

Scranton's Grand Railroad Stations built because of Scranton's Iron, Steel and coal.
Go to

Old time posters for Lackawanna Railroad promoting clean (?) rides with Phoebe Snow.
Go to

SCRANTON HISTORY. Historic Jewel of the Pocono Region.
Go to

Tour 1 of Scranton. City skyline
Go to

Tour 2 of Scranton. Government buildings
Go to

Tour 3 of Scranton. A tour of Luna Amusement Park .
Go to

Tour 4 of Scranton. A tour of the old coal mining area.
Go to

The Coal Miners and their families.
Go to

St. Ann's Basilica.
Go to

Early theater history in Scranton.

Go to

LIST OF OVER 200 POCONO - SCRANTON HOTELS AND RESTAURANTS LISTED BY AREA.


Go to

Stroudsburg History.
Go to

Jim Thorpe History.
Go to

Nicholson Bridge. World's Largest Concrete Bridge.
Go to

East Stroudsburg History.
Go to

Delaware Water Gap History.
Go to (links)local hotels, local museums, more Houdini links, CityLink USA, etc. All with Web Site links


© 1989-2003 by The Houdini Museum. No part of any of this document may be reproduced in any form, without written permission. The graphics have been retouched, computer enhanced and resized by the authors.

---
---